ZIRC Implant Organizer 20Z490B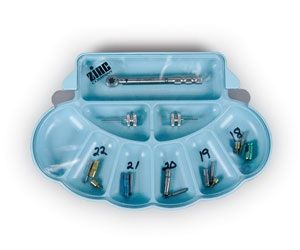 ZIRC Implant Organizer 20Z490B
ZIRC Implant Organizer
20Z490B
Individual compartments for implants. Quick and easy recognition.
Features:
•Arch shape of the organizer mathces the arch of the mouth for implant placement
•Separate compartments prevent implant appliances from mixing together
•Lubricated plastic enables tooth number to be written in the designated area
•Patient names can also be written on the organizer for quick identification
•Cover helps keep material secure
•Contains Microban Anitimicrobial Protection
•Surface Disinfect Only

443-552-7338
a1dentalsupply@gmail.com
"30 YEARS IN BUSINESS"
why pay more, lowest price guaranteed!!