Sultan Topex Prophylaxis Paste, Mint, Medium 12 oz Jar AD30032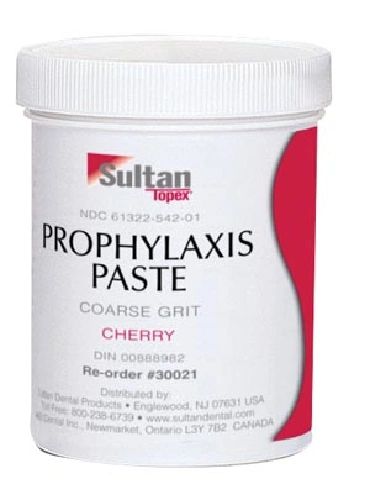 Sultan Topex Prophylaxis Paste, Mint, Medium 12 oz Jar AD30032
Sultan Topex Prophylaxis Paste, Mint, Medium 12 oz Jar
AD30032
200 Unit Cups: Great TOPEX® flavors in a non-splatter, consistent formula. Disposable unit cups eliminate cross contamination. Perfect blend of polishing and cleansing agents. Contains 1.23% APF fluoride. Color coded tops and easy to read labels for safe and convenient use. Prophy ring included in each 200 unit cup package with extra rings available. Also included in each box are a firm and soft cup Upgrade® Prophy Angle. Available in 5 grits and 5 great flavors. 12 oz. Jars: Prophy Paste contains 1.23% APF fluoride. This unique blend of cleaning and polishing agents are offered in 2 grits and 3 great flavors. Patients appreciate the pleasant taste.

443-552-7338
a1dentalsupply@gmail.com
"30 YEARS IN BUSINESS"
why pay more, lowest price guaranteed!!