RPI SciCan Statim Type Condenser Waste Bottle Kit SCK016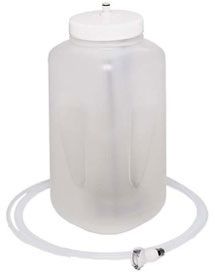 RPI SciCan Statim Type Condenser Waste Bottle Kit SCK016
RPI SciCan Statim Type Condenser Waste Bottle Kit
SCK016
OEM Part #01-100812S

CONDENSER WASTE BOTTLE KIT

1 gallon capacity; Material: Polypropylene
Self-contained reservoir assembly
Comes completely assembled - simply connect the exhaust tube.
See Notes below
See Important Note below regarding the In-Line Quick Connect (RPI Part #RPF371)
All parts are also sold separately!
Fits: Vent Solenoid Valve Fitting
Model(s) This Part Fits: Statim 2000 Series, Statim 5000 Series, Statim 900 Series
The RPI Advantage: This One-of-a-kind design allows removal of the Condenser Waste Bottle from the exhaust tubing in one easy step. Simply push and release the quick connect on the lid and the bottle is free from the exhaust tube for easy maintenance.
Includes:
Also Available:
Important Note The In-Line Quick Disconnect (RPI Part #RPF371) will not function properly with the OEM Teflon® Tubing. Only use with the supplied Nylon® Tubing (RPI Part #SCK017).        
443-552-7338
a1dentalsupply@gmail.com
"30 YEARS IN BUSINESS"
why pay more, lowest price guaranteed!!