Richmond Braided Cotton Rolls Economy Pak, 1 1/2" 3/8" Non-Sterile, 2500/bg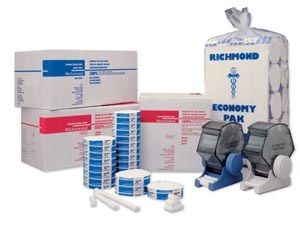 Richmond Braided Cotton Rolls Economy Pak, 1 1/2" 3/8" Non-Sterile, 2500/bg
Richmond Braided Cotton Rolls Economy Pak, 1 1/2" 3/8" Non-Sterile, 2500/bg
200215
Over the years, Richmond Dental & Medical has continually provided the highest quality Braided Cotton Roll; this superb product has become the preferred choice of dental professionals. Our attention to creating the best dental roll has resulted in a product with superior absorbency, flexibility and comfort.
-Does not stick to mucosa (The 100% cotton braided roll is held together with silky yarn instead of chemicals - which cause the roll to stick to mucosa - resulting in ultimate comfort for the patient 
-Unique wicking action provides a drier field and outstanding durability as our Braided Rolls absorb up to 30% faster
-Made with purified medical-grade cotton
-Innovative flexible design for a secure fit into the buccal curvature and the sublingual space
-Infection control roll dispensers are available; they are fully autoclavable and will keep rolls sterile until use; available in blue and white
443-552-7338
a1dentalsupply@gmail.com
"30 YEARS IN BUSINESS"
why pay more, lowest price guaranteed!!