Quala Sutures Plain Gut C6 3/8 Circle 19mm Reverse Cutting 3/0 27" P00822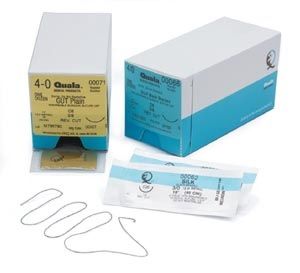 Quala Sutures Plain Gut C6 3/8 Circle 19mm Reverse Cutting 3/0 27" P00822
Quala Sutures Plain Gut C6 3/8 Circle 19mm Reverse Cutting 3/0 27"
P00822
Precision drilled end needle ensures smooth transition to suture material and maximizes secure attachment of suture to needle. Needles are sharpened to a smooth, precise cutting edge to penetrate cleanly and stay sharp for repeated passage through tissue. Double sterile pouch allows sterile transfer on to a sterile field.

443-552-7338
a1dentalsupply@gmail.com
"30 YEARS IN BUSINESS"
why pay more, lowest price guaranteed!!