PL Medical Stainless Steel Blades Non-Sterile #11 100/bx BSNS11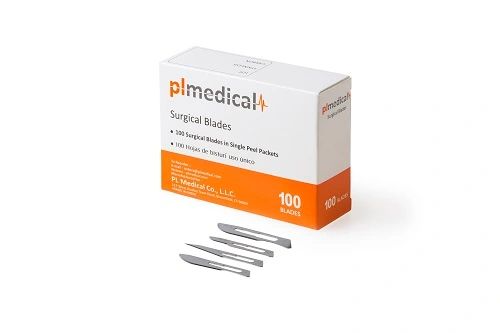 PL Medical Stainless Steel Blades Non-Sterile #11 100/bx BSNS11
PL Medical Stainless Steel Blades Non-Sterile #11 100/bx BSNS11
Advantages
Our surgical blades are made with Swiss carbon steel and stainless steel and other raw materials from Germany and the U.K. The surgical blades are manufactured in an ISO-9000 certified facility and have CE acceptance markings. Our products are sterilized by Gamma Radiation at a minimum dosage of 2.5 m. Rads or 25 KGy, with sterility guaranteed for 5 years – as long as the packaging remains unbroken.
Available in both stainless and carbon steel, numbers 10, 11, 12, 12B, 15, 15T & 15C fit handle numbers 3, 3L, 5, 7 and 9. Numbers 18, 20, 21, 22, 23, 24 & 25 fit handle numbers 4, 4L, and 6.
The blade to handle fitment conforms to ISO 7740 specification, which is important as it ensures the consistency of the manufacturing as well as the blade to handle fitment.
Computerized grinding and proprietary polishing processes ensure consistent, clean, sharp cutting edges on every blade. This edge treatment reduces drag and tissue trauma.
Carbon steel blades have a hardness of 800 HV, or 62.5 HRC.
All surgical blades are individually foil packed with V.C.I paper. Supplied sterile and non sterile, in box of 100.
**Free shipping on orders of 6+ boxes**
443-552-7338
a1dentalsupply@gmail.com
"30 YEARS IN BUSINESS"
why pay more, lowest price guaranteed!!