Mydent Defend Plus Jacket Pink Medium 10/pk SJ-3630LPM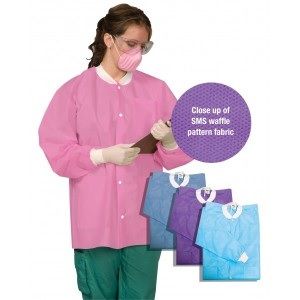 Mydent Defend Plus Jacket Pink Medium 10/pk SJ-3630LPM
Mydent Defend Plus Jacket Pink Medium 10/pk
SJ-3630LPM
DEFEND+PLUS Jackets and Lab Coats provide comfort and style! Made of a soft, breathable fabric, these fluid-resistant jackets and lab coats meet OSHA requirements for blood-borne pathogens. The autoclavable, washable Rated 4 1/2+ out of 5 from the Dental Advisor.
These Jackets and Lab Coats also provide the latest technology in protection, with 28% better filtration (Nelson Laboratories 1/2011), higher quality stitching, cuffs, and collar compared to the leading competition.
• Static Free – No Clinging
• Soft 3-Layer SMS Fabrics
• Fluid Resistant, Breathable
• Snap Front, Knit Cuffs & Collar
• 1 Breast Pocket & 2 Hip Pockets
• Autoclavable and Washable
• Latex Free
• 10 per bag

443-552-7338
a1dentalsupply@gmail.com
"30 YEARS IN BUSINESS"
why pay more, lowest price guaranteed!!