Lang Jet Set-4 1-lb Bottle Powder 3830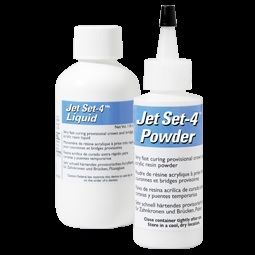 Lang Jet Set-4 1-lb Bottle Powder 3830
**MATERIAL IS FOR DENTAL PROFESSIONALS ONLY!!!!**
Lang Jet Set-4 1-lb Bottle Powder
3830
Self curing acrylic resin that sets in 4 minutes for temporary crowns and bridges. Powder: 59/B1, 60/A1, 62/A2, 65/D3, 69/C2, 81/A3.5, OM1 and Clear.
Jet Set-4™ Features:
• Faster in curing time
• Improves chair-time efficiency
• Improves procedure profitability by reducing dental materials cost when compared to bis-acryl resins
• Durable temporaries for greater patient satisfaction and comfort

443-552-7338
a1dentalsupply@gmail.com
"30 YEARS IN BUSINESS"
why pay more, lowest price guaranteed!!