Lang Jet Adjusters Liquid 3201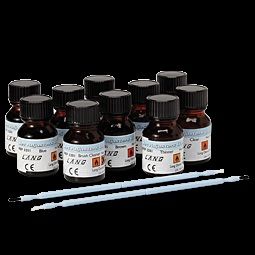 Lang Jet Adjusters Liquid 3201
**MATERIAL IS FOR DENTAL PROFESSIONALS ONLY!!!!**
Lang Jet Adjusters Liquid
3201
Liquid resin system for custom characterizing and staining temporary crownes and bridges.
Liquid: Blue, Brown, Clear, Grey, Orange, Violet, White, Yellow, Thinner, and Brush Cleaner
Liquid-10ml (Please specify color)
This liquid resin system allows you to customize your newly created temporary crown or bridge for a more natural appearance to match the patient's dentition. We offer eight long-lasting, translucent and stable colors that bond directly to the fabricated tooth. Jet Adjusters cure quickly (less than 2 minutes) and can be used chairside or in a lab prior to final cementation. Sealing properties eliminate porosity.

443-552-7338
a1dentalsupply@gmail.com
"30 YEARS IN BUSINESS"
why pay more, lowest price guaranteed!!